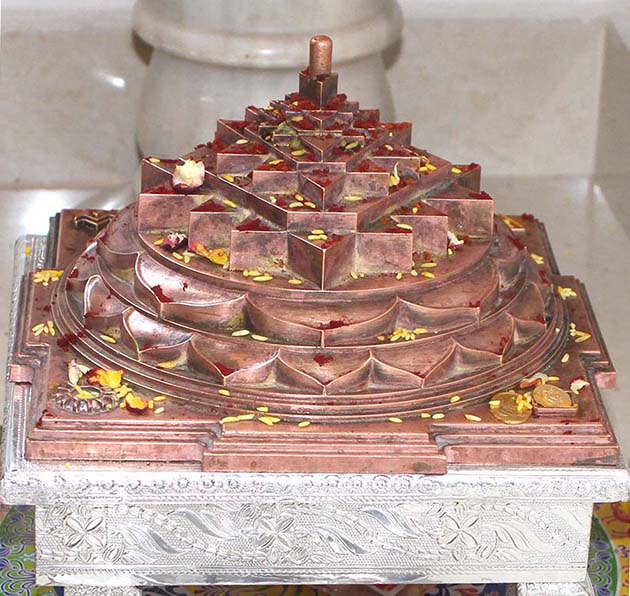 The worship of Sri yantra or Sri chakra is called Sri vidya. Lord Shiva created 64 Yantras and 64 mantras of various deities to attain various objectives and siddhis. For His consort Devi, He created the Sri Yantra and the Shodasi Mantra which is the equivalent of all the other 64 Yantras and Mantras put together! That is why the Sri Yantra is called Yantra Raja and the Shodasi Mantra is called Mantra Raja. The Devi resides at the central bindu of Sri Yantra. There are total 108 Devis in the 9 avaranas of Sri Yantra. Ganesha, Soorya, Vishnu and Shiva recide at the four corners of the Sri Yantra. All the 8 Lakshmis, Saraswatis, the Nityas, the Yoginis and in fact every Devi controlling each and every aspect of our life and the world reside in the Sri Yantra. 
The Shodasi Mantra is given at the end of the pooja. You can do japa of the mantra. At one time the Shodashi vidya was one of the most guarded secretes of tantra. Usually the Guru used to give it to a highly deserving and tested disciple. Very few used to get it. Even in the Mantra Shastra, where all other tantras are openly and clearly given, the Shodashi vidya is not directly given. Several hints about the mantra are given and you are asked to get the mantra if you are capable and deserving. The opening versus of the mantra shastra chapter on Shreechakra says, "Your head can be given, your soul can be given but the Shodashi Vidyaof the Devi can not be given". However times have changed and the rules of Tretayuga are no longer applicable now. Anyone how wishes to worship HER can do it even without a guru. You don't need a guru to give you mantra deeksha. In the olden days there were no books to learn and even the palm leaf writings were few so a guru was necessary.  So forget the rules of Treta yuga and accept Devi and  Shiva (as Guru of the world Dakshinamurty) as your Gurus and practice with faith and you will get their blessings.
The Sriyantra Pooja is done in many ways.
One is a simple worship of the Sriyantra by reciting any devi mantra 108 times and offering akshantas or flowers to sriyantra with each recital.
Second is its worship reciting the Khadgamala as given here> http://www.astrojyoti.com/khadgamala.htm
The third is by doing a simplified Navavarana pooja > http://www.astrojyoti.com/sriyantrapooja.htm
Next level is by doing a fully ritualistic Pooja known as Srividya sadhana.
The Srividya sadhana varies depending on one's Sampradaya or lineage. There are three Srividya sadhana sampradayas – Kaulavachara, Vaidic achara and Vaishnavachara. The Kaulavachara was taught to Lord Parashurama by Lord Dattatreya. Lord Parashurama gave it his shishyas in the Parashurama kalpa Sooktam. Of these the best is the Kaulavachara as it gives the best results. Next is the Vaidicacharya followed by the Vaishnavachara.
Some extreme Vamachara tantrics practice it in the Smashan (burial ground) at night and some even do it sitting on a corpse and some in the company of a woman.
There are also other sampradayas like Kadividya where the panchadasi mantra starts with  ka – e – ī – la- hrīṁ कएईलह्रीं , Hadividya where it starts with ha – sa – ka – ha – la – hrīṁ हसकहलह्रीं and Sadividya where it starts with sa – ka – la – hrīṁ सकलह्रीं. The Kadividya is the most popular and considered the best. 
One great thing about the Kaulavachara practice is it does not impose and food, drink, cast or lifestyle restrictions on the Sadhaka – something which the other Sampradayas do.  I first learned and practiced the Srividya as per the Vaidicachara and then learned and switched over to Kaulavachara, thanx to the books and teachings  of Amrutanandaji.
Devi loves nyasas so it will be good if you learn them. The various nysa pictures are given wherever a nyasa is required. You can also see and learn mudras from https://www.youtube.com/watch?v=g0KpyiHbunA
If you can do this pooja every day it will be great. If not do on full moon, new moon, panchami, asthami and Friday which are Her favourite days.
For best results the shodasi mantra, given at the end of this pooja, should be recited one lack times and then the shodasi homam should be performed with 10000 recitals and then one should offer 1000 tarpans and feed 100 people.
You can learn and do the Srividya Tarpanas from > here
It gives me great pleasure to put this rare worship online so that all can learn and benefit from it.

(తాతా శివ ప్రసాద్)
—
List of pooja items needed • A Sriyantra – either a meru or a flat brass/copper plate • A murti or photo of Devi Lalita Tripura Sundari • Kumkum • Termeric (hadli) • Akshantam (mix little bit of kumukum or turmeric, ghee or oil in rice) • Sandalwood paste • Fruits  • flowers – red ,white and yellow • Betel leaves and Betel nuts • Pancha patra (preferred sliver or copper plate, tumbler, spoon • A shankha and shnkha stand or a cup to keep the shankha. • Water and some warm water • Milk • Panchamrut ( Mix of milk, curd, ghee, honey and any fruit juice • Champhor (karpoor for aarati) & plate for aarati • Oil lamps (preferred ghee, castrol oil, til oil • Bell • Insense sticks (Agarbati) or Dhoop • Naivadyam / Prasadam – any fruit or sweet food item. If you don't have you can use sugar or jaggary.
The panchadasi mantra given bellow and its beejas are is used quite frequently in Srividya. It is also called the moola mantra. In short it is written as Ka14 and the beejas are also at times written as ka4, ha5 and sa3.
ka – e – ī – la- hrīṁ कएईलह्रीं (5 bījas)
ha – sa – ka – ha – la – hrīṁ हसकहलह्रीं (6 bījas)
sa – ka – la – hrīṁ सकलह्रीं (4 bījas)
The Srividya Pooja is given bellow in English. Sometimes the Sanskrit beejakshars are difficult to write in English. If you are familiar with and more comfortable with Devanagiri (Sanskrit) script, you  can see the Srividya in Devanagari.
Vandanas
Om gum gurubhyo namah
If you have a guru say his name. If not consider Dakshina murty (incarnation of Lord Shiva as Guru of the world) and recite the following:
Nidhaye sarva vidyanam bhishaje bhava bhava roganamgurave sarva lokanam Dakshina murtaye namah.
Om Gam gloum ganapataye varavarada sarvajanam me vashamanaya namah.
Prano devi saraswati vajebhir vajinivati dheenama vitriyavatu vag devyai namah.
Priliminary pooja
Sit facing east and keep the Sriyantra and the Devi picture/idol in front of you. The top triangle tip of the Sriyantra should b pointing at you.
Aasana pooja
Offer akshantas or flowers to your asana and recite:
Om yogasanaya namah veerasanaya namah sharasanaya namah divyasanaya namah.
ka – e – ī – la- hrīṁ Tripurasundari vidmahe
ha – sa – ka – ha – la – hrīṁ  peethakamini dheemahi
sa – ka – la – hrīṁ tannah klinne prachodayat
Atma suddhi
(Take Akshantas smell and throw behind you)
Apavitra pavitrova ya devasthanaga thopiva
Ya smaret pundarikaksham sabhayabhyatara suchi
(Chant pundarikaksha 3 times and sprinkle water on your head.)
Deepam
Light lamp and recite:
Deepajyoti parabrahma deepajyoti janardhana
Deepo me haratu paapam deepajyotir namostute.
Aim Hreem Kleem rakta dwadasa shakti yukta deepanathaya namah
Kalasha pooja
With your right hand covering the opening of the kalasha recite:
Kalashasya mukhe Vishnu kanthe Rudra samasritah
Moole tatra sthito Brahma madhye mathru Ganasmurtha
Gangecha yamune chaiva Godavari saraswati
Narmade sindhu kaveri jalesmin sannidhim kuru
Gangadhi sarva teerthebhyo namah
(Sprinkle kalasha water on you and around.)
Shankha pooja
Panchajanyaya vidmahe padmagarbhaya dheemahi tanno shankha parachodayat.
Achamanam
Pour water in your right palm and recite with each of the following mantras and sip water:
Om Aim Hreem Shreem Aim Ka E I La Hreem Atma tatvam shodayami swaha
Om Aim Hreem Shreem Kleem Hasakahala Hreem vidya tatvam shodayami swaha
Om Aim Hreem Shreem Sauh Sakala Hreem Siva tatvam shodayami swaha
Om Aim Hreem Shreem Ka14.. Sarva tatwam shodayami swaha
Ghanta
Ring bell and recite:
Agamartham cha devanam gamanarthamtu rakshasam
Kuryat ghantaravam tatra devatahvana lanchanam
Bhoota suddhi
Apasarpantu te bhoota ye bhoota bhuvi samsthita
Ye bhoota vighnakartarah te nashyantu Shivagyaya
(On left side clap 3 times.)
Karanyāsaḥ
Om – śrīṁ – hrīṁ – klīṁ – aiṁ – sauḥ: aṅguṣṭhābhyām namaḥ (use both the index fingers and run them on the thumbs)
om – hrīṁ – śrīṁ tarjanībhyāṁ namaḥ (use both the thumbs and run them on both the index fingers)
ka – e – ī – la- hrīṁ madhyamābhyāṁ namaḥ (both the thumbs on the middle fingers)
ha – sa – ka – ha – la – hrīṁ anāmikābhyāṁ namaḥ (both the thumbs on the ring fingers)
sa – ka – la – hrīṁ kaniṣṭhīkābhyāṁ namaḥ (both the thumbs on the little fingers)
sauḥ – aiṁ – klīṁ –  hrīṁ – śrīṁ karatalakarapṛṣṭhābhyāṁ namaḥ (open both the palms; run the opened palms of the
right hand on the front and back sides of the left palm and repeat the same for the other palm)
Hrdayādi nyāsaḥ ( Also called shadangaasana)
Om – śrīṁ – hrīṁ – klīṁ – aiṁ – sauḥ: hrdayāya namaḥ| (open index, middle and ring fingers of the right hand and
place them on the heart chakra)
om – hrīṁ – śrīṁ śirase svāhā (open middle and ring fingers of the right hand and touch the top of the forehead)
ka – e – ī – la- hrīṁ śikhāyai vaṣaṭ (open the right thumb and touch the back of the head – the tuft point)
ha – sa – ka – ha – la – hrīṁ kavacāya huṁ (cross both the hands and run the fully opened palms from shoulders to
finger tips)
sa – ka – la – hrīṁ netratrayāya vauṣaṭ (With index, middle and ring fingers of the right hand; touch both the eyes using index and ring fingers and touch the point between the two eyebrows (ājñā cakra) with the middle finger.)
sauḥ – aiṁ – klīṁ –  hrīṁ – śrīṁ  astrāya phaṭ (open up the left palm and strike it three times with index and middle fingers of the right hand)
bhūrbhuvassuvaromiti digbandhaḥ|  (using right hand thumb and middle fingers and click clockwise around head)
Gayatri japa
Do pranayama with the Gayatri mantra three times.
Om bhur bhuvah suva
tat savitur varenyam
bhargo devasya dheemahi
dheeyo yo na prachodayaat
Sankalpa – Your sankalpa…
Shuklambharadharam Vishnum sashivarnam chaturbhujam
Prasannavadanam dhyat sarva vighnopa shantaye
Mama Sri Lalitatripurasundari preetyartham
Yatha sambhava dravye yatha shakti samarya kramam
Nirvartreyeshye tena Parameswaram preenayami
Tripura gayatri
Offer water with the spoon and recite the Tripura gayatri mantra as follows
Ka e I la hreem tripurasundari vidmahe
Ha sa ka ha la hreem peetha kamini dheemahi
Sa ka la hreem tannah klinne prachodayat
Laghu prana pratistha
Om aim hreem shreem aam hreem kroum yam ram lam vam sham ssham sam ham
om hamsah soham soham hamsah shivah srichakrasya sri lalitayaah mama pranah iha pranah
mama jeeva iha sthita mama sarvendriyani vaj manas chakshuh shrotah jivyhaghrana vak panni padapayupastha lingani ihaivagatya asmin srichakre sukham chiram tisthantu swaha
Om asunite punarasmasu chakshuh punah prana mihano dehi bhogam
Jyok pashem soorya mruchharanta manumate mrusthayanh swasti
Amrutam ve pranah amrutamapah pranane vayatha sthana mupahavayate prana pratisthapana muhurtasy sumuhurta astu
Srichakrachana for all bellow add Aim hreem shreem in the beginning and namah at the end
Aim hreem shreem amrutambho nidhaye namah
ratna dweepaya ,,
Nanavruksha mahodyanaya ,,
Kalpavruksha vatikayai,,
Santana vatikayai
Harichandana vatikayai
Mandara vatikayai
Parajata vatikayai
Kadamba vatikayai
Pushysraga ratna prakarayai
Padmaraga ratna prakarayai
Mahasringara parighayai
Mahapadvatavi
Chintamanimaya gruharajaya
Poorvamnayamaya poorva dwaraya
Dakshinamnayamaya dakshina dwaraya
Paschimamnayamaya paschima dwaraya
Uttaramnayamaya uttara dwaraya
Ratna prdeepa valayaya
Manimaya maha simhasanaya
Brahmamayaika manncha padaya
Vishnumayaika manncha padaya
Gomedha ratna prakaraya
Vajra ratna prakaraya
Vaidhoorya ratna prakaraya
Indraneela ratna prakaraya
Mukta ratna prakaraya
Marakata ratna prakaraya
Vidruma ratna prakaraya
Manikya mandapaya
Sahasra sthamba mandapaya
Amruta vapikayai
Aananda vapikayai
Vimarsa vapikayai
Bala tapodgaraya
Chandrikodgaraya
Rudra mayaika mancha padaya
Eshwara mayaika mancha padaya
Sadasiva mancha padaya
Hamsa toola mahopadhanaya
Kausumbhastaranaya
Mahavitanakaya
Mahamaya yavanikaya
Ka14 namah on bindu
Kaeilahreem namah – agrakona bottom tip of the top triangle/face
Hasakahalahreem namah – dakshakona right side tip/ breasts
Sakalahreem namah – vamakona left tip /yoni
Viraja Homam
In the Kaulavachara Sriyantra sadhana the sadhaka identifies ones entire body with the body of Devi.
One day you will die and your mortal body will be cremated. Freed from the body your soul one day will merge into the Nara-Nariswar. This is just a matter of time.
Say Aham Soham 3 times and imagine that the Devi is within you.
With this thought do pranayama with the panchadasi mantra as follows:
In poorak (inhaling) with ka..4 meditate on her face and imagin it mearging with your face, with ha..5 mearge her heart with yours and with and with sa..3 mearge her yoni with your private part.
In kumbhak (holding breath) and rechak (exhaling) visualize her entire body in your body.
Do pranayama like this three times. In Pooja as you worship Devi's body parts visualize your body part also because your body is the temple where SHE resides.