I visited Haridwar during the Maha Kumbha Mela 2010 and was overawed by the faith of the millions who were flocking in to take bath in the Holy Ganga and remembered the famous words of Mark Twain:
After visiting the Kumbh Mela of 1895, Mark Twain wrote:
" It is wonderful, the power of a faith like that, that can make multitudes upon multitudes of the old and weak and the young and frail enter without hesitation or complaint upon such incredible journeys and endure the resultant miseries without repining. It is done in love, or it is done in fear; I do not know which it is. No matter what the impulse is, the act born of it is beyond imagination, marvelous to our kind of people, the cold whites. "India is, the cradle of the human race, the birthplace of human speech, the mother of history, the grandmother of legend, and the great grandmother of tradition….So far as I am able to judge, nothing has been left undone, either by man or nature, to make India the most extraordinary country that the sun visits on his rounds. Nothing seems to have been forgotten, nothing overlooked….India has two million gods, and worships them all. In religion all other countries are paupers; India is the only millionaire."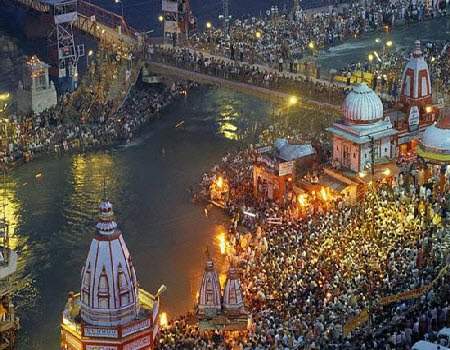 Haridwar Maha Kumbha Mela 2010 – 40 million people visited it!
From the snow clad mountains peaks of the Himalayas to the surf washed shores of Rameswaram, from the dense rain forests of the east to the arid deserts of Rajasthan, India is a treasure trove of a million holy places and for thousands of years millions – nay trillions – of people have been visiting them with faith to offer their prayers to God.
Several of these Holy Places are mentioned in the ancient Indian scriptures of India. Some are temples like Somnath and Kashi etc., some are river spots like Triveni Sangam at Allahbad and Gangotri, some are mountain spots like Mount Kailash and Govardhan etc., some are ponds where Holy people are reported to have taken bath like Chitrakut and Dhanushkoti where Sita bathed and Agastya Pushkarani of Agastya, some are caves like Panchmarhi, Arvalem and Bhimbetka Pandav Caves and even holy tree spots like the Bodhi Tree of buddha at Gaya!
While it is impossible to write about all of them, in this section – the Holy Places of India
 – I intend to cover about 3000 I have visited. I am adding a few pages every day and hope to complete it in one year.
1. The twelve Jyotirlingas of Lord Shiva:
Somanath Mallikarjun Mahakaleshwar Omkareshwar Kedarnath Bhimashankar
Vishwanath Tryambakeshwar Vaidyanath Nageshwar Rameshwarm Grishneshwar
Click to see the map showing the location of the 12Jyotirlingas.
2. Naimisharanya where Vedavyasa taught all the Vedas and Holy scriptures.