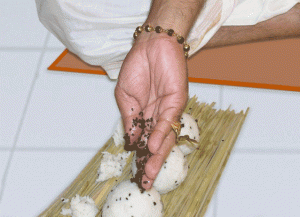 The auspicious Mahalaya Amavasya, the last day of the pitrupaksha period is on the 30th of September. It is a great day to perform Shradh or Atma Shanti Pooja for one's departed relatives. If someone is not able to perform Shradha on the death Tithis of one's departed near and dear ones then a single Shradha on this day is enough to give solace  to all the deceased souls in the family. If death anniversary of ancestors are not known or forgotten then those Shradhas can also be performed on this Tithi. That's why Amavasya Shraddha is also known as Sarvapitra Moksha Amavasya.
If you want to perform the Shradh for your near and dear ones you can place a Shradh order and our Vedic Pandits will perform it in their name on this great day. Ritualistic Pinda daan will be done and brahmins will be fed as per the tradition.
You need to furnish the following information: Name of the person for whom you are ordering the shradh. This is a must.
Additional information (if you know): 1.Gotra, 2. Nakshatra, 3.Death month and tithi or death date and place.
Place Shradh Pooja Order: Cost: Rs. 3500/-
You can check your currency rate using the currency converter by Clicking here

You can mention your Sankalpa (Specific wish), your Gotra and Nakshatra in the order form or mail to sptata@gmail.com. Those who want to attend the yagya can also contact us for venue details. For any details contact Pandit S. P. Tata on: Mobile: (91)9542095470, 7842505152, 8978953237, 9493855281.