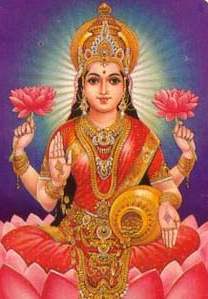 The famous Indian festival of lights, Diwali is on the 30th of October.  It is the day to worship goddess Lakshmi, the giver of the eight kinds of wealth. On this new moon day the spiritual forces are at their best to worship the holy mother of wealth and any pooja on this day yields many times more results than the other days. On 30th October, our South Indian Pandits will be performing the great Lakshmi Sri Sookta Homam.
Lakshmi Sri Sookta Homam : 4 pundits perform the pooja and recite 4×1008 times Lakshmi Namavali and Sri Sooktam and perform homam for 1/10 the number of recitals. Lotus flower dipped in honey is offered in the homam. It is a very powerful pooja for all round prosperity. It will be done in your name with the specific sankalpa. It can also be ordered by a group.
Check price in your currency. You can pay by credit or debit card. For direct bank transfer see the "Contact" link on the top bar right corner.
You can order Archana to be performed in your name or in the name of your near and dear ones.
Archana per person cost INR 1001/-
You can also order a full Lakshmi Sri Sookta Homam to be performed exclusively for yourself and your family members.
Cost for 10,000 recitalas and havan INR.10000/-
The following are two great items you can order on this day.  The worship of Sriyantra is a great one for all round prosperity. They will be kept in Pooja and pranapratistha pooja will be done in your name.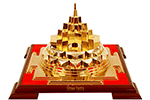 Genuine Pancha dhatu Mahameru        Gold plated brass Sriyantra

You can mention your Sankalpa (Specific wish), your Gotra and Nakshatra in the order form or mail to sptata@gmail.com Those who want to attend the yagya can also contact us for venue details. For any details contact Pandit S. P. Tata on: Mobile: (91)9542095470, 7842505152, 8978953237, 9493855281.