Within two years of launching we have won the following prestigious awards.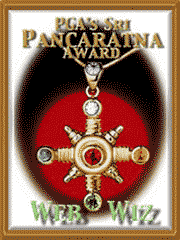 PGA Pancharatna Award 2005
The Planetary Gemologists Association or PGA Web Awards are in recognition of excellence in web design & functionality. PGA Awards are not presented by voting nor by paying; rather, they must be earned by Web Excellence deserving of recognition in the fields of Gemology or Astrology.

"We see all the hard work and dedication that you have put into constructing your web site and your efforts are well deserved. Your site displays: Excellent Design and Layout of Website, with quality content and informative information for your visitors."

Ultraweb awards is one of the top awards of the world encouraging excellence on the web and honoring websites that stand above the crowd.

Treasures of the Web: "To honor and recognize those outstanding websites that excel in content, quality and ethics, while providing enrichment to the web community".

AJCF Award

Golden web awards The International Association of Web Masters and Designers in recognition of creativity, integrity and excellence on the Web.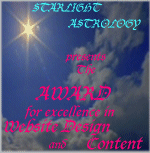 Starlight Astrology Top Site Award 2004 Starlight Astrology Top Site. "A fine example of what a well made web site should be!"
Majon's Most Prestigious Award for "outstanding web sites that rise above the rest in content, design and usability".

"To recognize those people who exhibit responsible contributions to the Internet community."