Naimishe animisha-kshetre
Rishayah s'aunakâdayah
Satram svargâya lokâya
Sahasra-samam âsata
(Srimad Bhagavatam 1.1.4)
(naimishe–in the forest known as Naimishâranya; animisha-kshetre–the spot which is especially
 a favorite of Vishnu (who does not close His eyelids); rishayah–sages; s'aunaka-âdayah–headed by the sage S'aunaka; satram–sacrifice; svargâya–the Lord who is glorified in heaven; lokâya–and for the devotees who are always in touch with the Lord; sahasra–one thousand;samam–years; âsata–performed.)
The Legend of Naimisharanya: Naimisharanya is the Holy forest where Vedavyasa taught the Vedas and all the Puranas to his disciples. Later it is in this very holy place that Romaharshana (alternatively Lomaharshana), Vedavyasa's disciple, narrated the Puranas to several Rishis. It is also the blessed place where Ugrasrava (Suta Gosvami), the son of Romaharsana, narrated the story of Shreemad Bhagavatam to several Rishis.
According to legend, in the Satya Yuga, the 1st of the four yugas, the Rishis wanted to perform uninterrupted yagyas for the benefit of mankind and asked Lord Brahma for a suitable place. Lord Brahma created a huge wheel (called Manomaya chakra) released it and instructed the sages to follow it. He also told them that the place where it broke down would be very auspicious for doing penance. The sages followed the Manomaya chakra, which after traveling for a long time fell down on a large segment of land and its circumference (Nemi) broke down as predicted by lord Brahma. This segment of land became famous as Naimisharanya. As soon as it got destroyed, from the spot a huge gush of water sprouted up in the form of a Shiva-linga. As the water was flooding the place, the Rishis prayed and Mother Shakti appeared and absorbed and stopped the flow of water. Hence Naimisharanya is also a Shakti Peetha and has a famous ancient Lalita (Devi) temple. She is also called Linga-Dharini Shakti.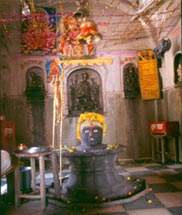 Lalita – Lingadharini Shakti
There is a huge pond at the place called Chakra-Kunda, meaning the pond of the wheel.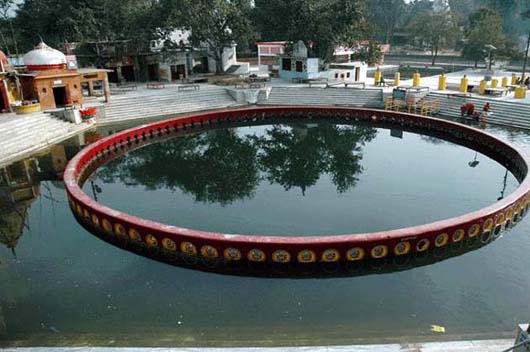 Chakra Kunda
The sages performed a Yagya at that sacred place. This way, the very place sitting where lord Brahma did creations all the sages commenced their Yagya, which continued for ten thousand years. On the completion of Yagya, the deity arrived and blessed them.
Other places of interest are :
Vyasa Peetha – where Vedavyasa Taught the Vedas & Puranas.
Dadheechi Kund – associated with Rishi Dadheechi.
Seeta Kund – where Mother earth opened up and took Sita into her fold. (As per her request, after the unification of Lava & Kusha with Lord Rama)
How to reach Naimisharanya
Naimishararanya is in the Sitapur Dist of U.P. and 89 km away from Lucknow, on the banks of the river Gomati. From Sitapur Cantt one can get to Naimisharanya by train. Bus, autos and taxis are also going there from Lucknow. There are trains leaving from Sitapur at 13-20 and 17-20 hrs for Naimisharanya. You can also reach by getting down at Hardoi station before Lucknow which is 20 KM. from Naimisharanya. It is a small village but there are several ashrams and dharmashalas where you can stay.
There is a famous Balaji (Venkateswara) temple at Naimisharanya and the priests are conducting a 4 day yagya-festival at Naimisharanya, which includes Sri Sukta Homam, Deeparadhana, Maha-Abhishekam of Lord Venkateswara, Srinivasa Kalyanam, Vishnusahasranama Paath, Pavitra Mala Samarpan, etc. It is performed twice every year – once in March and once in September. There is no fees and all are free to attend it.
Contact: Sri Balaji Mandir
Naimisharanyam – Pin code 216402
Sitapur Dist
U.P.
Phone: 05865 251274