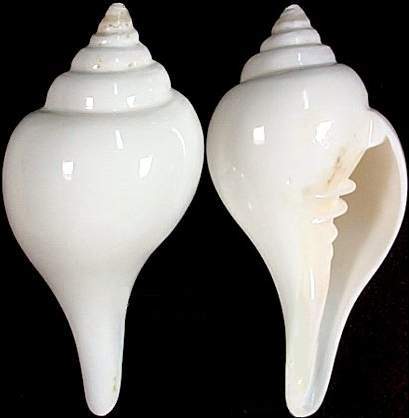 Vamavarti Shankha – front and back
We regret that Shankha selling is now banned and hence we cannot supply you this product.

You can check your currency rate using the currency converter byClicking here.
All products supplied by us come with an authentication certificate with picture signed by Pandit S.P.Tata. See certificate example and conditions
Please note that as it is a natural product, no 2 Shankhas ever look alike. Normally we ship approximately 5″ size but there will be some variations in size and shape.
The Shanka used in Vedic poojas is of the species Turbinella Pyrum dextral. This regularly available Shankha is called Vamavarti Shankha. It opens to the right and you can hold it with your right hand fingers inserted into the opening – that is when the head portion is at top and the opening is facing you, it opens to the right. It has smooth contours and 3 or more horizontal lines at the inside center opening as in the top-right picture. According to the Vedic scriptures, the Shankha is one of the most auspicious objects that emerged from the sea during the Ksheera Sagara samudra manthan. Hence it is regarded as the brother of Goddess Lakshmi, the ruler of wealth. Most of the Gods and Goddesses hold the Shankha in their hands. Shankh is one auspicious nine objects – Navanidhi – of Kubera who is the Lord of wealth. Blowing the Shankha is regarded as an auspicious sound at the start or end of any ceremony.
Shankha sound