The four basic shades of Rudrakshas – fair, light brown, dark brown and black – are associated with the four Varnas of the Hindu society. There are two theories about this. According to one the Rudrakshas are rated as Brahmins, Kshatriyas , Vaishyas and Shudras. According to the other, people belonging to these casts should wear the respective colored Rudrakshas. If you ask HOWSTHAT, the answer is no comment ! Most of the commercially available Rudrakshas are coloured to give them a good look.

Rudraksha colours
The Rudraksha tree, known scientifically as Elaeocarpus Granitrus is acknowledged as an ancient species of trees. It grows in the Himalayan regions of India and Nepal and also in Indonesia. It takes 15 to16 years to mature and bear fruits.


The Rudraksha Fruits
Rudrakshas come in various sizes. The smaller Rudrakshas are more famous for their curative and spiritual value. The Puranas say that one should wear Udad dal size Rudrakshas. They are also more convenient and presentable to wear and do not show through the shirt ! The ones that grow in the lower Indian Himalayan altitudes are normally smaller in size. In the higher altitudes of Nepal, where it it snows more the beads are much bigger.
Shuulatankapaashadandapaanimaadikaaranam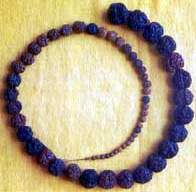 Smallest to the largest Rudrakshas available from Pandit S.P.Tata's collection
Another variety of Rudraksha is "Patri" Rudraksha. It is very smooth and costs 3 to 4 times more. Very difficult to obtain now.
Rudrakshas are known by their "Mukhis" or faces. The simple way to know is by counting the number of lines on a bead. The Puranas associate various Mukhis with various Gods and have described their spiritual attributes. Rudrakshas have several curative powers. For example a fully tested five mukhi Rudraksha mala controls anger, BP, Diabetics, tooth-ache, piles and gives peace of mind and spiritual inclinations.

Ganesha Rudraksha
There are two other special type of Rudrakshas. One is Ganesha rudraksha which has a Ganesha's trunk type projection. Regarded as highly auspicious and protector from misfortunes.The other is Gauri-Shankar rudraksha in which two Rudrakshas are joined together, symbolically representing Shiva and Shakti.

Gauri-Shankara Rudraksha