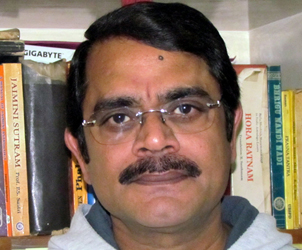 Pandit Siva Prasad Tata (శివ ప్రసాద్ తాతా)
Puttaparthi, Andhra Pradesh based 64 years old Vedic astrologer, Pandit S.P.Tata, whose passion for astrology and religion prompted him to build this website single handedly, hails from the Veginati Andhra Vedic Brahmin family. He was a panel astrologer of Astrospeak, Indiatimes – the famous Times of India website and has been practicing Vedic Astrology for more than 34 years, giving predictions, remedies and horoscopes. He specializes in predicting and teaching astrology online and is the first Indian astrologer to have started online live forecasts and online astrology teaching course through interactive multimedia.
He was also the Associate editor of a monthly astrology magazine, "Astrology the soul of all" for which he edited the contents and contributed articles.
He worked in the garment export industry in New Delhi and held senior management positions in reputed export organizations. In 1994 he started his own export buying agency business. Astrology, which was his hobby and love, slowly became a passion and he turned a full time professional astrologer at the turn of the century.
He learned Vedic Astrology studying the various classical Sashtras. This knowledge was further supplemented by the many tips and lessons given by his close relative, Mr.K.N.Rao, the world famous Vedic Astrologer. With his influence he learned to combine the Parashara system with the Jaimini system to give accurate predictions.
Realizing that to guide people in their destiny one needs divine blessings more than academic knowledge, he took to the Pooja of Lord Ganesha and the worship of Sri Chakra. He is a desciple of Paramahamsa Swami Satyananda Saraswati – the legendary yogi of Mungher & Rikhial. He does not believe in gemstones as remedies and prescribes Poojas, Stotras and Rudrakshas as remedies for various afflictions and problems.
He has contributed several articles to magazines and websites. In May 2004 when Atal Bihari Bajpai was refusing to even talk or shake hands with General Musharraf of Pakisthan, he predicted in the India times astro-radio talk that both will meet and will patch up relations in January. On the 31st January night live forecast from the popular Zee news TV channel show, he predicted the exact date of release of Shankaracharya Jayanth Saraswati who was jailed by the Jayalalita regime on false charges. Currently he is writing a book on the advanced applications of Gochara and Asthakavarga in giving predictions. He designed and launched this website in late 2003. Apart from garments business he also provides astrology contents, forecasts and web design consultancy for other web sites.
He is deeply involved with two social service organisations – one involved in helping the slum children of Delhi and the other is the only organisation in the world which is making Vedic scriptures for the blind people in Braille script and gives them freely. A good part of the income from this website goes to supporting these two social service organisations.
Currently he is reciding at Puttaparthy in Andhra Pradesh. You can contact him online 9 am to 8 pm IST (+5.30 GMT) with:
Gtalk and Skype ID is sptata, Yahoo Messengers – the user ID is s_p_tata.
Phone: (91-8555)286356
Mobile: (91) 8978953237,9542095470, 7842505152, 9493855281
Email to:sptata@astrojyoti.com