Product Description
Ganesh Pooja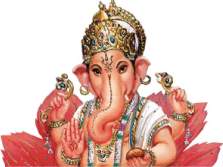 Sri Vakratunda Mahakaya koti Soorya samaprabha
Nir-vighnam kurume deva shubha karyeshu sarvada
Lord Ganesha, the prodigal son of Shiva and Parvati, is the most worshiped God. Before doing any auspicious work Ganesha must be worshiped. Before doing any pooja Ganesha pooja must be performed. He is the God who removes your obstacles. He is the embodiment of wisdom and worshiped by those seeking knowledge. In his various forms he is worshiped as Buddhi Ganapati for better knowledge, Vidya Ganapati for studies, Siddhi Ishwarya Ganapati for wealth, Sankata Nashana Ganapati to remove obstacles and difficulties etc. He is also the presiding Deity of Astrology.
The following are the most commonly performed Ganesha poojas of the Vedic tradition.
Our payment gateway CCAVenue is the best in India and a secure 128 bit SSL Secure site. Hence your credit card information etc are safe.

Click to know about The date, time, venue, how long it takes, what we send you etc.
Maha Ganapati Homam : Total of eight pundits perform this Homam. Ganesha in His eight forms is worshiped with astha dravyas. 1008 moola mantra japa is done by 8 pundits, ie 8×1008 times. Recital of Ganapati Atharva Seersha from Upanishad is done. After that homa is performed with 1/10 number of the recitals. It ends with poornahuti and deeparadhana. It can be done exclusively for you with your sankalpa and you can also book it for a group of people. An very effective homam for removing all obstacles and for all round success.The above pooja with 1008 Namavali japa plus 1008 Ganesha Moola mantra recital and Homa performed with 1/10 of the japa number, i.e., 108 Moolamantra recital during homa. Ends with poornahuti and shanti mantras. It is done specifically in your name with your sankalpa, i.e., your wish.