Product Description
Ganesh Pooja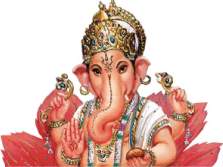 Sri Vakratunda Mahakaya koti Soorya samaprabha
Nir-vighnam kurume deva shubha karyeshu sarvada
Lord Ganesha, the prodigal son of Shiva and Parvati, is the most worshiped God. Before doing any auspicious work Ganesha must be worshiped. Before doing any pooja Ganesha pooja must be performed. He is the God who removes your obstacles. He is the embodiment of wisdom and worshiped by those seeking knowledge. In his various forms he is worshiped as Buddhi Ganapati for better knowledge, Vidya Ganapati for studies, Siddhi Ishwarya Ganapati for wealth, Sankata Nashana Ganapati to remove obstacles and difficulties etc. He is also the presiding Deity of Astrology.
The following are the most commonly performed Ganesha poojas of the Vedic tradition.
Our payment gateway CCAVenue is the best in India and a secure 128 bit SSL Secure site. Hence your credit card information etc are safe.

Click to know about The date, time, venue, how long it takes, what we send you etc.
Ganapati Homam for Specific Purpose : As there are several aspects of Ganapati ruling the various activities of our life, people do Homam of that particular ruling Ganapati for the desired objective. The following three are the most common:
Vidya Ganapati homam – for studies & learning.
Aishwarya Ganapati homam – for wealth.
Sankatahara Ganapati homam – for removing all obstacles.