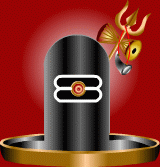 Om Namo Bhagavate Rudraya
According to Linga Purana once Brahma and Vishnu started fighting over who was the supreme being. Suddenly, there appeared a Sivalinga before them as a huge column of fire. Both of them decided to find one end each. Whoever returned first would be acknowledged as supreme. Vishnu assumed the form of a boar and went down. Brahma, in the form of a swan, flew upwards. They searched for days but in vain. Then Shiva appeared in the fiery column. Brahma and Vishnu realised their mistake and acknowledged Shiva as the Supreme Being. The Shivalinga represents that column of fire as 12 Jyotirlingas.
There are 12 famous Jyotirlingas where Lord Shiva appeared in the form of light (Jyothi) lingam. These have been worshipped from time immemorial. They are mentioned in the Dwadasa Jyotirlinga Stotra given here.
The Dwadasa Jyotirlinga Stotra
Saurashtre Somanaatham Cha
Sree Shaile Mallikarjunam
Ujjayinyaam Mahaakaalam
Omkaare Mamaleswaram
Himalaye to Kedaram
Daakinyaam Bhimashankaram
Vaaranaasyaam cha Viswesam
Trayambakam Gowtameethate
Paralyaam Vaidyanaatham cha
Naagesam Daarukaavane
Setubandhe Ramesham
Grushnesam cha Shivaalaye
Click on each name link bellow to know about the shrine, its location and legends..
Click to see the map showing the location of the 12Jyotirlingas.