Product Description
Varaha Saligrama with an OM shape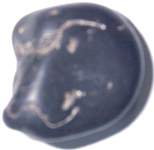 Varaha Saligrama with an OM shape on the back side.
A very rare Varaha Saligrama with a perfect boar face and an OM mark on the reverse side. You will get this exact piece.
Price : Rs 51,000/-
It will be shipped with in a week after doing Pooja in your name. Delivery will be by courier and courier charges will be added when you order.
You can check your currency rate using the currency converter by
Clicking here.