Product Description
Saraswati Pujas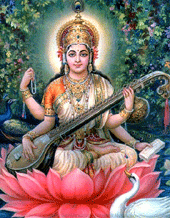 Saraswati Poojas
Goddess Saraswati, the consort of Lord Brahma, is the presiding Deity of all forms of Vidyas – i.e., learning. She is the Goddess who grants us success in Education, research, music, singing, dancing, acting, painting, sculpture etc. She is also the ruler of speech and called Vagdevi. In the orthodox Hindu tradition, before starting anything one salutes one's Guru, Ganesha and Saraswati. These three salutations are called Vandana Trayee.
For those seeking better results in studies, or proficiency and success in arts, dance, music etc., or for those suffering from speech defects like stammering lisping etc, Worship of Devi Saraswati is highly recommended.
We offer the following Saraswati Poojas.
Our payment gateway CCAVenue is the best in India and a secure 128 bit SSL Secure site. Hence your credit card information etc are safe.
Click to know about The date, time, venue, how long it takes, what we send you etc.
 Sarawati Pooja :It is performed normally on a panchami tithi. The shodasopachara pooja is performed with the prescribed materials, 1008 Saraswati Namavali and Saraswati Sooktam are recited. It will be done in your name with the specific sankalpa.