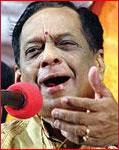 They are the two giants of Carnatic music. They have become legends in their lifetime and are household names in India. Their contribution and influence on Carnatic music is something which no one has ever achieved during the last two centuries. And yet they are so totally different in their attitude, style, lifestyles and even in their cultural backgrounds.
Smt. M.S.Subbulakshmi (16-Sept-1916 – 11-Dec-2004)
She was born in a Devadasi family (traditional temple dancing & singing girls) in the temple town of Madurai on September 16th, 1916. Their tiny home was close to the Meenakshi temple. Her mother Madurai Shanmukhavadivu Ammal was a Veena player. Her lawyer-father Subramania Iyer lived a few streets away.
Her first guru Madurai Srinivasa Iyengar passed away rather too soon. But she kept practicing on her own and having a musician mother helped a lot. Her first recording was at the age of ten, when she recorded a couple of songs for HMV in Madras as an accompanist to her mother. She started giving concerts at a tender age, first by accompanying her mother and then as a solo vocalist. She was the child prodigy of Madurai. Her mother recognized MS's exceptional talent and shifted from Madurai to Chennai (then Madras) to launch MS on her own. When her mother performed at concerts, MS was the vocal accompanist – she was only 13.
She gave her first performance at the prestigious Madras Music Academy at the age of 17. She went up the dias at the festival to sing for the most elite gathering of music lovers in Madras. Till then stage classical music performing was a male dominated profession. The few ladies from the dancing girls lineage who ventured onto the stage were more intent on bewitching potential lovers with come-hither smiles and body language.
But in this case it is her absolute devotion to her concert, a rich and clear voice, a very dignified presence on the stage which enticed the listeners and held them spellbound as she took them through the intricacies of Carnatic music. She essayed into serious elaborations of ragas without apparently being aware that she was breaking fresh ground as a female vocalist. And soon, the young and beautiful MS had a major cult following.
In 1936 she met Sadasivam Iyer, a well known figure in the Madras Congress circle, and a protégé of the Congress leader Rajaji. The courtship lasted for four years and had its up and downs. Friends recall that at times M.S. seemed like backing out of the relationship, because of Sadasivam's possessiveness. But such spells did not last long and she was a contented happy woman when the couple were married in Thiruneermalai, in 1940. He gave up his job as the advertising manager of 'Ananda Vikatan', a leading Tamil magazine, and concentrated on guiding MS's musical journey.
With his wide connections in the journalistic and political world, he became instrumental in the continued success of her already flourishing career. He was a tall personable man with a can-do attitude. He was a widower with two children. Such was the man who was to change M.S.'s life for forever. Soon he started his own magazine "Kalki", a nationalist Tamil weekly. The part of 'Kalki' magazine in her image building was not small. Almost every other cover featured her, with a reverential little article inside about her charity performances. Kalki, in fact played a big role in projecting M.S. as a saintly musician.
In those days most concert vocalists acted in films. It was not surprising that M.S., with her lovely voice and charming personality, joined films. 'Sevasadanam', her first movie was released in 1938 where she acted as a poor young girl who married a rich old man. This was followed by 'Sakunthalai' where M.S. played the lead role, the most glamorous of all her roles teaming up with G.N.Balasubramanian, the most attractive vidwan of the time. The film contained some of the most haunting of all her movie melodies – 'Endan Idathu Tholum', 'Premayil', 'Engum Nirai Nadha Brahmam'.
This was followed by 'Savithri' (directed by Y.V. Rao) which was released in 1942. M.S. played as Naradha with the North Indian star Santha Apte in Savithri. This film too did extremely well at the box office. The income from this movie was largely used to start the 'Kalki' magazine. This was the time when M.S.'s persona as a star was established, that of a quite type of a glamour queen. She dressed slightly more flamboyantly, sported some make-up and was naturally gossiped in the press. She was also imitated widely.
This image remained intact until the release of 'Meera' in 1945. When 'Baktha Meera' was released in both Tamil and Hindi, it created a swelling wave of appreciation that gave M.S. an all India status as a musician. It also marked the end of her film career. It is said that Rajaji himself advised the couple against any more involvement in the films. Perhaps Sadasivam saw a greater benefit in preserving the somewhat saintly image that M.S. had acquired after the film. Whatever, M.S. gave up films once and for all and turned wholly to concert music.
M.S. become an accepted and integral part of the Madras elitist society. It became an honor to have her at a wedding or a gathering. Always a trend setter, M.S. became a kind of fashion apostle for the upper class Madras wife. Her sarees, her diamonds, the particular style in which she wore flowers in her hair, all became trademarks. In the 50s, almost every Madras housewife had at least one saree of the M.S. blue shade. For most part, M.S. had adjusted magnificiantly to her new life.
Along with her public VIP image, she developed an equally strong private life image of the orthodox Hindu housewife whose husband's word was her command.