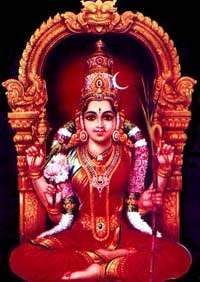 Goddess Kamkshi of Kanchipuram
It is said that in the beginning God, who was one, wanted to become many and enjoy himself. As the first step to creation he created Devi – the total cosmic Female force, also called Prakriti. For the male part, out of his left he created Shiva, out of his middle he created Brahma and out of his right he created Vishnu. That is why many regard the Devi as more powerful than the Trinities and hence She is called Parashakti or Paradevi – Para meaning beyond . Brahma created the universe. Vishnu controls and runs the universe. Shiva along with Shakti is engaged in the eternal dissolution and recreation of the universe. Hence by worshipping the Devi one is actually worshipping the highest ultimate force.
When Banasura, the demon king became all powerful and the Gods were unable to kill him, Lord Vishnu prayed Devi and she manifested in the form of Goddess Durga. During her battle with Banasura Goddess Durga created Kali and Chandi out of herself. Hence Durga, Kali and Chandi are the three most commonly worshiped names and forms of the Devi. Amba, Ammavaru, Chamundi, Danteswari, Lalita, Tripura Sundari, Meenakshi, Shodasi, Visalakshi are the other names and forms in which she is worshiped in various parts of India.
According to the scriptures and the various devi stotras the abode of the devi is the Vindhyachala, the mountain range that runs through the north-eastern Andhra Pradesh. No wonder that each and every town or village in Andhra has an Ammavru temple where the Devi is worshiped.
The photograph at the top of the page is that of Goddess Kamkshi of Kanchi. Ka-Ma-Akshi when translated means the Goddess has Lakshmi and Saraswati as her eyes, or one who gives you learning and wealth with her glance. It has the closest resemblance to the description of the devi in her original form as given in our scriptures – " The radiance of a thousand raising suns, three eyes, resplendent in red clothes, wearing a crown with the crescent moon, holding in her hands a bow of sugarcane, goad, arrows of flowers and a cord."
There are many types of Devi worships, the highest and the most coveted one being the worship of Devi in the Shree Chakra with the Highly guarded Shodasakshari mantra. Given below is a very simple but very effective Devi pooja which every one can perform daily. Those interested is the Shree Chakra pooja will find it in the poojas page.
Devipooja:
Dhyanam:
Sinduraruna vigraham trinayanam manikyamauli sphurat
Tara nayaka shekharam smitamukhi mapina vakshoruham
Panibhyamalipoorna ratna chashakam raktotpalam bibhratim
Saumyam ratna ghatastha raktacharanam dhyayet paramambikam
Om Tripuradevi namah  – dhyayami
Om Tripureshidevi namah – avahayami
Om Tripurasundaridevi namah – asanam samarpayami
Om Tripuravasinidevi namah – padyam samarpayami
Om Tripurashridevi namah – arghyam dharayami
Om Tripuramalinidevi namah – achamanam samarpayami
Om Tripurasigdhadevi namah – snanam samarpayami
Om Tripurambadevi namah – vastrayugmama samarpayami
Om Mahatripurasundaridevi namah – aabharanam samarpayami
Om Mahamaheswaridevi namah – gandham dharayami
Om Mahamaharagyidevi namah – pushpani pujayami
Om Mahamahashaktidevi namah – dhupam aghrapayami
Om Mahamahaguptadevi namah – deepam darshayami
Om Mahamahagyaptadevi namah – naivedyam samarpayami
Om Mahamahanandadevi namah – tambulam samarpayami
Om Mahamahaskandadevi namah neerajanam samarpayami
Om Mahamahashayadevi namah – mantrapushpam samarpayami
Om Mahamahashrichakranagarasmragyidevi namah – atmapradikshina namaskaram
samarpayami
Sadhuva sadhuva karma yadyadacharitam maya
Tatsarvam krupayadevi gruhanaaradhanam mama
Devanatha guruswamin desikaswatmanayaka
Trahi trahi krupa sindho pujam poornataram kuru..
Learn how to worship Devi with the great Shodasi Mantra japa.
Those who are interested in Devi poojas this is a simple and fairly easy to perform Sriyantra pooja.
For those who don't have the time a simple Khadgamala recital is > here
For those who have the time and inclination a full and very detailed Navavarana pooja as per the great Kaulavachara is > here