Many people wear Rudrakshas in a gold chain. The following are some ideas for you.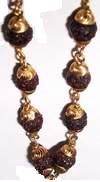 Gold capped Rudraksha mala
1. Hand picked exclusive high quality 4mm size 5 Mukhi Rudraksha beads set in 22 ct. gold capping. Normal mala of will be of 54 beads will be appx 13 inch size.

Gold capped Rudraksha mala with a larger bead at the end
2. Same as the 1st item but with a larger 5 Mukhi at the end to add to the beauty. Normally 54 beads + one large bead.

Gold capped Rudraksha
3.You can also get single large piece Rudraksha gold capped as shown above.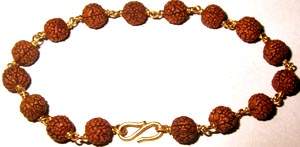 Rudraksha Bracelet with Gold links
Rudraksha bracelet with 22ct gold links.
Please note we do not deal in gold capped Rudraksha. You can select and order Rudraksha from here